---
Venue
RSECon23 is being held at the Great Hall on Swansea University's Bay Campus (building 6 on the campus map). Built from scratch on brownfield land in 2014, the Bay Campus is the closest campus in the world to a beach, and boasts panoramic views of Swansea Bay towards Mumbles Head.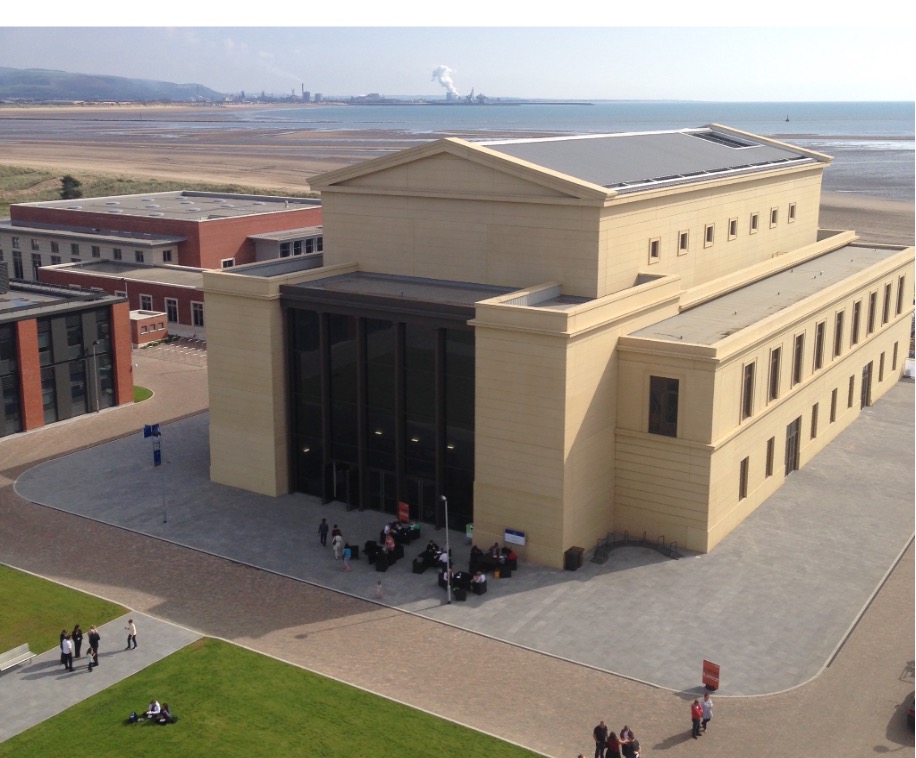 Getting to Swansea
Air
The nearest international airport is Cardiff Airport, which offers regularly scheduled flights to and from Edinburgh, Dublin, Amsterdam, and Doha, among other routes. Cardiff Airport is less than an hour from the Bay Campus by taxi, and also has rail and bus links. Bristol Airport and London Heathrow Airport have a wider range of international flights; both have good connections to Swansea via public transport.
Rail
Swansea has direct rail services from London Paddington (via Reading, Bristol, and Cardiff) and Manchester (via Crewe and Cardiff).
Swansea rail station is near the city centre, and is around 15 minutes by taxi or 20 minutes by bus from the Bay Campus. Alternatively, if you are travelling directly to/from the Bay Campus, Port Talbot Parkway station is around 15 minutes by taxi or 30 minutes by bus from the Bay Campus. All rail services heading to/from the east (e.g. Manchester, Cardiff, London) will call at Port Talbot Parkway on the way, 20 minutes after departing/before reaching Swansea, so changing there will allow you to leave later/arrive more quickly
Bus
The Bay Campus is served by both local and inter-city buses. Most local buses stop on the campus, a flat 200m walk from the Great Hall. Inter-city and a few local buses stop on Fabian Way, just outside campus, and a flat 600m walk from the Great Hall. Specific routing help is available from Traveline.
Car
The Bay Campus is conveniently located only a few minutes away from M4 junction 42. For travel from the West Midlands or North West of England, the route from the M5 via the M50 and A465 may be faster than using the M4-M5 junction; however, this route is currently subject to major road works including road closures that may affect journeys.
Parking
The Bay Campus has a large car park. Parking is included in the cost of accommodation for those staying on site. For others, please indicate when you register for the conference whether you will need to park a car on campus, and provide your vehicle registration number so that the ANPR system can be updated.. Parking for disabled badge holders is available in the visitor car park, which is a flat 500m walk from the Great Hall.
Electric vehicles
Electric vehicle charging is not available on campus. The nearest 7kW charging is at the Fabian Way Park and Ride, which has regular bus services to the Bay Campus. The nearest rapid chargers are at the ibis Swansea hotel and the Shell filling station to the east of campus.
Taxis
Data Cabs provide taxis in the Swansea area. Mobile apps are available on iOS and Android, or they can be called at +44 1792 474747. Typical taxi costs from the city centre to Bay Campus are £10–15.
Uber is not available in Swansea.
Where to stay
On-site accommodation
The conference has reserved 300 rooms on-site for attendees of the main conference (plus extra for the satellite events), at a cost of £58/night. The rooms are premium en-suites, with breakfast included and have access to a shared kitchen. Accommodation (Bay campus accommodation) includes on-site car parking for the duration of your stay. A 'virtual tour' of an example room is available here.
Booking is now open. The link to book accommodation is available through the registration form.
Local hotels
Hotels in the Swansea Waterfront area are a 30–45-minute walk (or 10–15-minute bus ride) from the Bay Campus.
Where to eat
Most meals will be included as part of the conference. However, we recognise that some individuals and teams may need other options.
On campus
Tafarn Tawe is the student pub on the Bay Campus, and serves a range of typical pub food as well as drinks.
Engineering Central and The College both host coffee shops
Subway and Tesco both have outlets opposite the Great Hall
Wind Street
Wind Street is famous for its weekend nightlife, but midweek it offers a wide range of eateries. (The BUNKERS! venue for the social evening is located at one end of it.) Venues include chains like Wagamama, TGI Fridays, ASK Italian, and Nando's, as well as independent restaurants like La Braseria and The Smoke Haus.
Marina
Swansea's Marina, originally part of its historic docklands, is a short walk across the road from the city centre and hosts a range of independent restaurants, including:
Additional information about Swansea
Click here for additional information about Swansea.